Scan the walls at the Front Street Taproom and you get a display of taxidemic skill—turkey, bear, deer, geese. You name it, someone has stuffed it and given it a prominent home within line of sight from anywhere the bar.
Front Street also color codes their beers—assigning a shade of chalk for that which is malty, hoppy, dark, sour, or unique. Which is pretty handy for a tipsy gal scanning the menu.
Front Street has trivia nights, comedy nights, open turntable nights and, on Mondays, it's open mic at Front Street. To which they welcome poets, musicians, comics, magicians, and whatever other talents might be wandering downtown Fargo.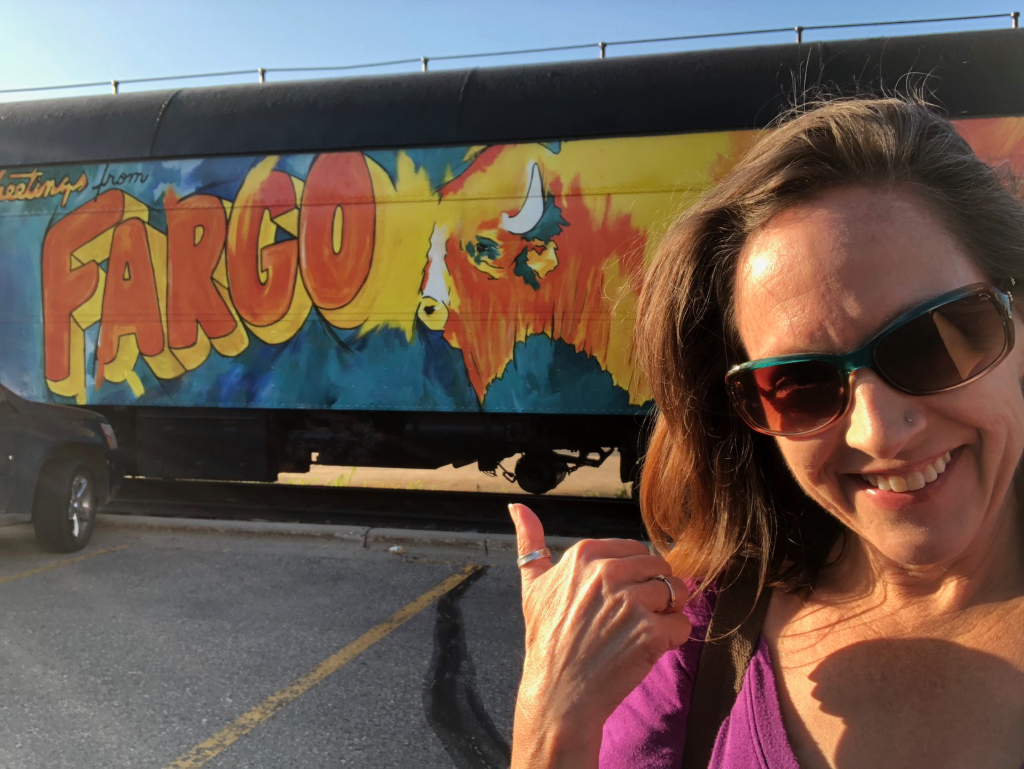 Three Things I Learned by Arriving Early
In keeping with my long-established habit, I showed up early. Way early. Like, chat-with-the-host-and-go-get-a-pizza-and-come-back early. 
(For those considering becoming an open mic tourist, this has saved me more than once from the expensive frustration of traveling to a venue and missing a chance to get on the list. Case in point: the New Sh!t Show in Minneapolis.) 
In addition to more or less guaranteeing I don't miss the sign-up list, arriving early also nets me fun facts about the event in question.
Among other things I learned from the host Dustin (aka Duster, aka cmptrdstr):
Front Street open mic has been running for 2 years. Maybe 3.
The list usually leads off with comics.
"We always have 7 people. But not always the same 7."
Anything Goes and Bottomless Slots
Like a good host, Dustin was right. There were about 7 people on the list. And like a good host, he both warmed the room and set the mood.  
After his 20+ minutes of trippy synth, no one could justifiably claim surprise at the super-easy-going pace and spirit that followed. So easy-going that I'd label Front Street a genuine contender against the open mic at Hawaii's Hale Hookah for Chillest Open Mic in America.
Chill as in no rules. No limits. No set time slots. No nuthin.
The unlimited time slot thing surprised me a bit more in a landlocked city populated chiefly by Germans and Norwegians than it did in the context of island time and bubble pipes. But perhaps it's time to disabuse myself of such stereotypes.
Whatever its cultural roots, this is how they roll in Fargo: 
Comics joke until they run out of material.
Musicians play 4 songs, maybe more.
Poets deliver mini feature sets.
The host tinkers with the sound from an iPad and, if he knows you and it's a slow night and he's feeling froggy, he'll turn up the reverb during your cover of "Oops I Did it Again."
Like, to 11.
Which totally happened to one Jake Ingamar (who I later learned is kind of a big deal, having opened for Parker Millsap last year).
And if you stick around all night long, the show closer—the selfsame Ingamar—might just let you join him on stage for a spontaneous duet on a Springsteen tune you love love love.
Yes, even if you sorta totally suck at singing.
No, I'm not posting the video.
The Unexpected Perks of Being an Open Mic Poet
I'm not just lucky, folks. This kind of serendipity is what open mics are actually all about. 
It's amateurs and up-and-comers. It's all manner of talents. It's people who stay up late in their kitchens and bedrooms, translating proud moments and small defeats into something original. 
The thing about open mic is that the things that happen at open mic can *only* happen at open mic.
So in addition to maybe getting something tangible, like a free beer for performing (which they totally do at Front Street).
In addition to hearing hopeful comics practice jokes and freshly minted guitar players put a clumsy but original spin on a cover tune. In addition to getting a chance to share a thing you made yourself with a cozy assemblage of like-minded and receptive artists. 
In addition to getting to sing, badly, with a handsome and promising young musician.
(Nope, still not sharing the video.)
In addition to all that, you get to be part of something that won't ever happen again. Not like that. Not that way. 
Each open mic night happens once and then ends. And if you were there, you can tell the story.
And if you weren't?  Hey, at least you can read my blog.
You're welcome.