Here in the US, we're at month four of not being able to gather in large groups. For people like me, that takes some of the sparkle out of my calendar—no shows to stalk and anticipate. 
(As a close friend of mine—who keeps a reminder of upcoming events where she can see them every morning—likes to say, life is better when you've got tickets on the mirror.)
But for people who make their living performing, it means no work, no paycheck, and a ding in merch sales.
Creatives are powerful creatures, though, and already they're coming up with ways to stay connected with fans and bring the show into our homes. 
Case in point: A summerlong spoken word series called Heavy Hitters, to which I bought an all-access pass. 
What's a Heavy Hitter?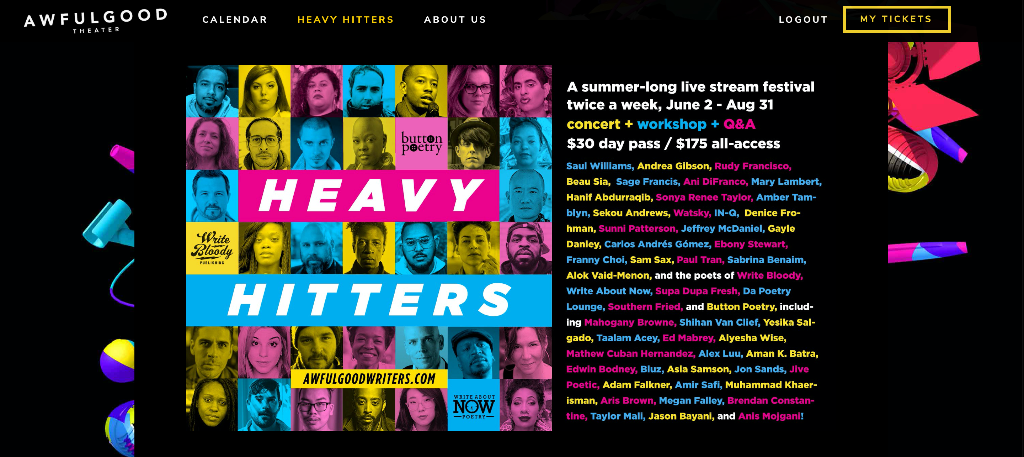 Heavy Hitters bills itself as a live stream festival: Part concert, part workshop, part Q&A. 
It started in early June, with biweekly shows running through August. So if you're interested there's still time to get access to the remaining 11 live performances AND all the recorded shows.
The host—Buddy Wakefield—and the line-up are all slam champions, touring veterans, award winners, and seasoned teaching artists. That is, people who make their living as poets. (Okay, one may be better known as a musician, but still.) 
I'm not gonna name names (much), but to give you a sense of their credentials:
If you follow Button Poetry, you've seen some of them.

 

If you've seen HBO's Def Poetry Jam, you've seen some of them.

 

At least 2 have been nominated for Grammys.

 

One was nominated for an NAACP Image Award.
One performed poetry with Cirque du Soleil.
So yeah, heavy is right.
As Buddy said on the first night, There's no chump change in the bunch.
The Open Mic Connection
Heavy Hitters isn't an open mic, but open mic runs in its veins.
Most, if not all, the artists started at a local open mic, then started slamming, then featuring and collaborating and publishing and touring…
You get the idea.
Grammy nominee Sekou Andrews called open mic his "multiplier"—meaning that's how he created a reputation and a fan base.
For open mic poets, Heavy Hitters gives you 30+ seasoned performance poets in action. By watching professionals Do The Things and listening to their advice during the workshop portion and Q&A, anyone who wants to can learn how to write truer, slam harder, and maybe even turn art into a career. 
Or, if you're like me—with a day job you like and a poetic voice that, at best, could be called diet-slam—you can still pick up some technique, catch some inspiration, and come away with a serious case of the feels.
Two Open Mic Showcases
So far, my favorite nights have been the showcases—multiple poets in a single show, all connected through a publishing house, collective, or venue. On those nights, Buddy ceded some of the host duties to the group, and the first part of the show actually ran a bit like an open mic. 
The poets from Write About Now (an open mic in Texas) had even gathered in person in a big room somewhere, complete with their signature vintage, stand-mounted rockabilly microphone and all the spontaneous snapping, clapping, and hooting that otherwise gets strangled by Zoom's mute-all setting.   
The poets representing LA's Da Poetry Lounge performed from their homes, but the show still had an open mic flow and we got a little background from host Shihan Van Clief on how DPL got started. (As an organizer, I love to hear how an event with legs got its shit going.) And how today it's the largest weekly and second longest running open mic in the US. 
(NB: I tried to fact-check this, but a search on "open mic" at guinnessworldrecords.com netted no answer. I did, however, learn that the current record for "Most canned drinks opened by a parrot in one minute" is 35. #rabbithole)
Still Time to Binge or Sample
My usual open mic write-up ends with some variation on "man, you shoulda been there" and an exhortation to get your ass to your own local event at the earliest. 
This time, the whole thing is on tape. You can get a pass, binge the series between now and August 31, and see everything I've seen. They also sell single-month passes and single-show passes, if you'd rather sample.
You may not love all the poets. You probably won't connect with all the poems. But you will hear from people who are among the best at what they do. People for whom poetry isn't just avocation, but vocation.
So check the remaining line-up and join me in the Zoom gallery (or the overflow YouTube stream).
It just might give you something new—and weighty—to write home about.