By now, I figure I'm fairly good at spotting signs of a promising open mic. For example, when I pass a guy playing a melodica on my way in. Or when the regulars are utterly undeterred by dire tornado warnings. Or when the venue has a bookshelf labeled "Lending Library" and a bowl of free condoms.
Or when there are not one but TWO signs on the stage that read, "Y'all Weird."
That right there will all but convince me this one is a sure thing.
A Stageful Every Sunday "Except Christmas and When I'm Dead"
My intuition proved solid last week at Coffee Culture in Gainesville, FL, where in addition to said signs, the roughly 8×8 stage somehow fit
One upright piano
An array of cabinet speakers and sound gear
Two stand mics and assorted cords
A full drum kit
A stray guitar.
Just a pear tree short of a holiday song.
Host Tristan Harvey said his open mic has been a going concern for some five years—every Sunday "except Christmas and when I'm dead." Tristan was a no-frills type host. After rearranging the seating and the stage, testing the mics, and setting up his drum kit, he said with little fanfare, "Welcome to open mic." He warmed up the room with a mix of covers and originals and moved things along from there right smartly.
Which is good, because slots at Coffee Culture are 15 minutes—a sure sign of a mostly music open mic, no matter what the flyer says. And sure enough, that's what it mostly was, plus me and one would-be comic.
Thing about musicians is that they need set-up time and sound check, which our host was especially smooth about, keeping the downtime between to a minimum.
When the Venue Staff are the Talent
From what I could tell, Coffee Culture is staffed almost exclusively by musicians, to include our host. Our baristas and their friends made up about half the line-up, which was sorta fun. And our host sat in with many of them on drums and sang a little back-up, adding some nice continuity. By and large, they were all really talented.
That said, it's always a little off-putting when the list is half full already when it's first opened up, meaning the host is gaming the system, signing up his friends by prior arrangement. Feels sorta cliquish and worse, it often encourages bad behavior.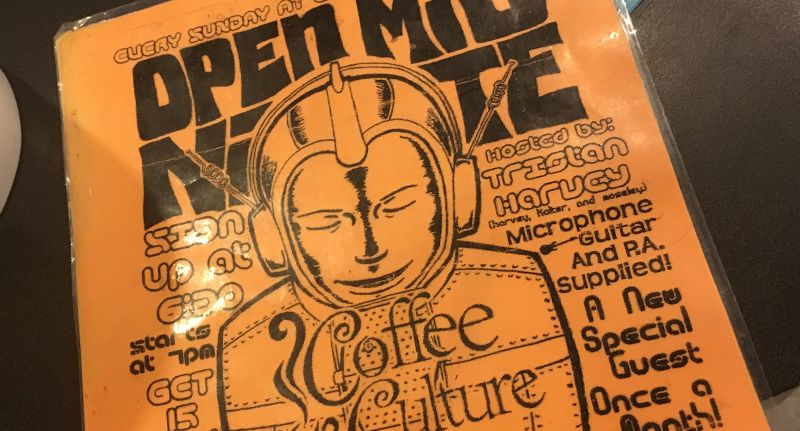 Don't Be That Guy
Which brings me to the Don't-Be-That-Guy Award.
Our winner was a guitar player who not only spent exactly ZERO minutes listening to anyone else—arriving only minutes before his slot and leaving directly thereafter—but he actually INTERRUPTED the performer who followed him because Mr. Douche Guitar had left his cell phone on the stage.
Hosts of the universe, do not allow this. You are the front line defenders of the spirit of open mic. Yes, that's a thing, and yes, it's on you. And I swear next time I see that shit, I'm throwing an onion.
Acts Worth Coming Early and Staying Late
Had Douche Guitar showed up earlier, he might understand why those of us who get it stay rooted in our chairs all night.
Among the things he missed:
The moment early in the night when Tristan realized he'd forgotten his sticks and proceeded to play for at least an hour with spatulas.
A woman clearly beloved by the home crowd who affixed a fake mustache to her lip and performed, in a passable Texas accent, a dialogue about horses and space between two characters named Steve and Don.
A retro hippie girl who sang like Eartha Kitt and accompanied herself on a candy apple red electric guitar.
A gentle singer-songwriter whose lyrics were every bit as sincere as the bootlace he used to lengthen his guitar strap.
Did I mention the spatulas?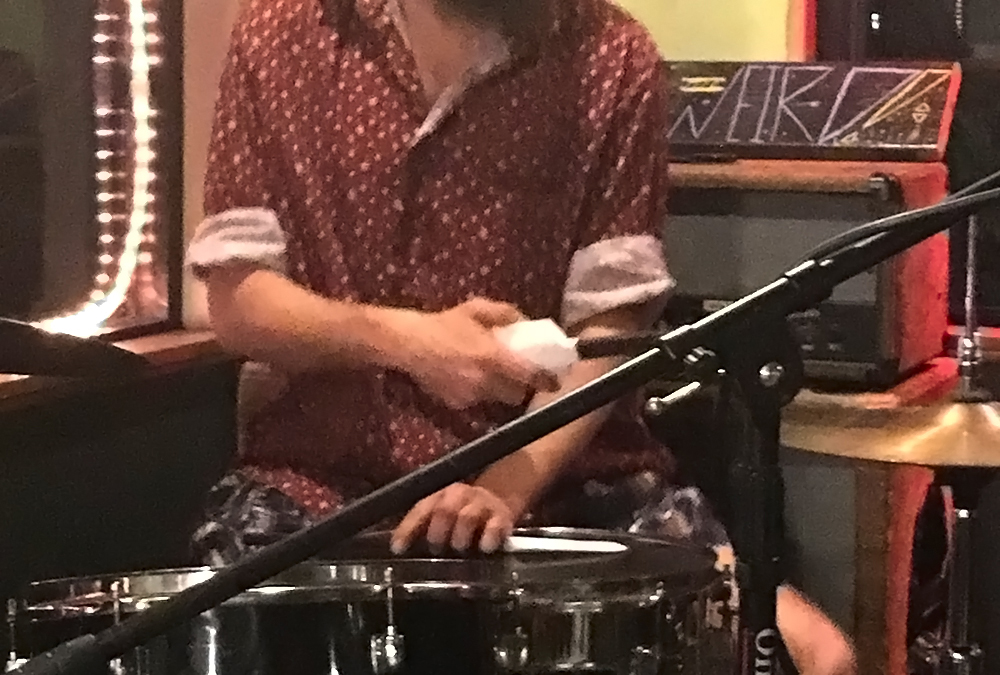 Best of all though was our final act at Coffee Culture that night…
His name was Bo, and he looked for all the world like one of the elder Sons of Lee Marvin.
He was 6'4" at least and weathered, with arms made of wire and rope. He wore Wellingtons and work jeans, and played a banjo that has clearly been around. He introduced a song about walking on Bellamy Road, saying that when he wrote it, he thought that's where he lived, learning only later that he was actually living on Ray's Trail.
It's easy to be wrong in life, said Bo, and I wrote this song about a place I wasn't at.
With Tristan on drums and harmony vocals, the audience just-one-more'd him until he'd played seven originals.
And when it was all over, I left more happy than tired, believing more strongly than ever that you should never leave until they start putting up the chairs and the host says goodnight.