If there's one thing that's true of all open mics—well, all the ones I've been to—it's that they start later than advertised.
The reasons vary from night to night. Technical issues. Ordinary human inertia. Or (sometimes) a deliberate host tactic to give people time to settle in so the performers at the top of the list have an audience. 
The night I joined the Bozeman Poetry Collective, it was coffee.
Our host Kelly declared—and rightly so—that you cannot have poetry without coffee, so we gave the pot a little time to do its thing.
Once the coffee was on, the event moved along in its bifurcated format: First hour is family friendly. So poets, bleep your f-bombs or save them for the second hour, when stronger themes and un-beveled edges are welcome.
Meet the Collective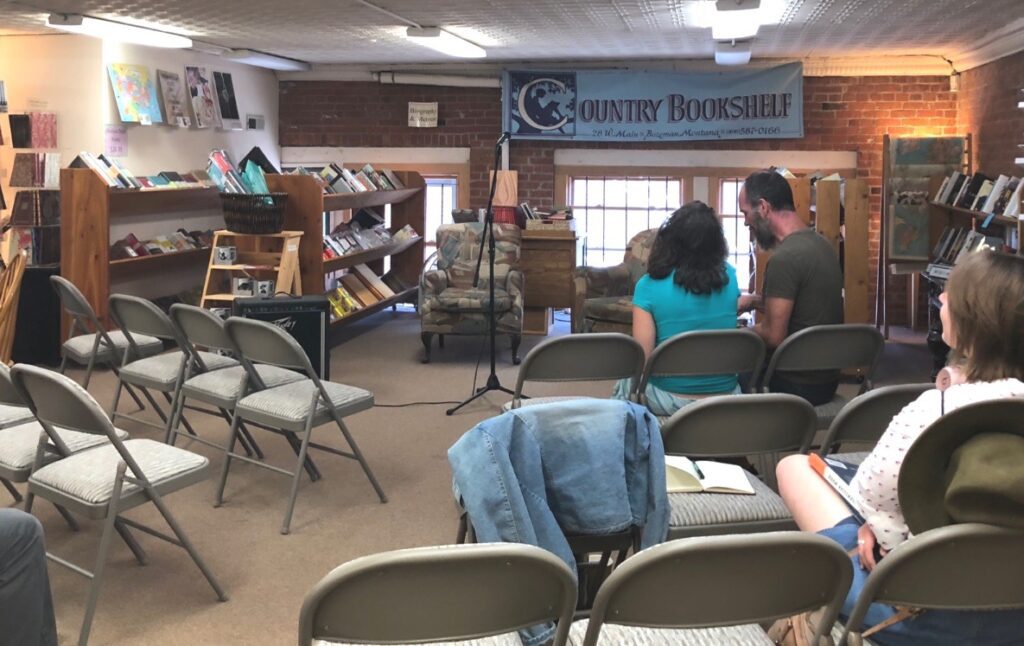 It its sixth year, the Bozeman Poetry Collective has a lot going on:
Open mics twice a month alternating between the Country Bookshelf and a local tea house
An ekphrastic challenge that will culminate in a reading at a community theater
An annual Dead Poet Slam at which poets perform works by the nonliving.
Their poets bring up images you don't get in other states—snow, switchbacks, elk. And as with Texas and Las Vegas, the state of Montana turned up by name in a handful of poems. A character in her own right, in their stories as in their lives.
"Today's Rumi Reading…"
Moreso than other venues, the Bozeman Poetry Collective encourages cover poems. 
Now, I love originals. And I applaud the commitment to original work you find at slams like the Nuyorican and creative showcases like Minneapolis's New Shit Show. 
But covers open the mic to readers who may not be ready to write—or share—their own stuff. 
At an open mic like this, someone might awaken a classic or embody a living poet who couldn't be in the room. 
That night we enjoyed a little Shakespeare, some TS Eliot, and in my favorite moment of the night, a woman named Jolene stepped to the mic with an appreciably worn volume of A Year with Rumi and shared the selection for July 27:
Consider how your face is a source of light.
If you enter a grieving room
with the Friend in your eyes,
light will bloom there
according to the laws of sweet and sour. 
Loose Leaf Poems, Profane Odes, and Room for the Belatedly Willing
Based on my usual n=1 sample, poets of the collective tend toward the informal. Those who performed originals mostly brought freshly minted work, read right from the notebooks and loose leaf papers where they first caught the thread. 
It's the kind of open mic where regulars trade goofy, profane odes to one another. The kind where new people can feel safe. And the kind where poets who held off adding their names to the list at the beginning build confidence during the event.
Said Kelly, by way of gently goading a previously hesitant reader to wrap up the night: 
"I can tell when there's an unread poem in the room."  
And of course, he was right. And we were all better for it, and for having shared words and space. Which somehow brings us back to Rumi…
In this quietness now
I feel someone seated on my right
like a kindness that will never leave.