After two and a half years, America's only open mic tourist (that's me) once again sallied beyond the borders of North Carolina in search of venues, shows, hosts, and performers to learn from.
It took a few months of stalking searching, but I managed to find 3 shows within driving distance of Boston. Each on a steady weekly cadence, each on a different night, and each well-established, welcoming, and wonderful in its own way.
First up: the Anything Goes Open Mic in a town just south of Hartford.
Dar Williams played here
On the corner of Main and Liberty Streets in Middletown, CT, sits the old Hotel Arrigoni.
Today, it houses low-income apartments, a soup kitchen, and a nonprofit arts org with a giant rose painted on its central window and twin sculptures made of old musical instruments on either side. Along the other windows: railings with more instruments welded to the pipes and a sousaphone-flute peace sign.
This is The Buttonwood Tree—a bookstore, art gallery, and music venue.
Look anywhere inside and you'll find an opportunity to drink in or give back to their mission of community enrichment. Among the many magnificent, quirky things sitting or hanging on/from every shelf, wall, and ceiling tile:
Local art of all kinds
Books galore
Donation/tip jars for the piano fund, artist inspiration fund, and concessionaire
A dozen (more?) happy houseplants with placards offering $5 cuttings, so you can propagate some good Buttonwood energy at home
Flyers and posters promoting live music shows, weekly improv workshops, laughing yoga, and…
…a Monday night open mic that's been going for 15 years—or is it 20? Maybe more. No one there was entirely certain.
Whenever it started, it just happens to be the open mic where Dar Williams started playing out.
(The same Dar Williams who wrote What I Found in a Thousand Towns: A Traveling Musician's Guide to Rebuilding America's Communities-One Coffee Shop, Dog Run, and Open-Mike Night at a Time. Which I happen to now be reading…so stay tuned for the first Open Mic Tourist book review.)
Anything means anything
The Anything Goes Open Mic runs true to its name (and IMO ranks up there with the best show names ever).
The vibe was one of Zen-like acceptance. With unfazable equanimity, our host JD and Buttonwood's regulars soaked in covers, originals, poems, singalongs, comedy, and karaoke power ballads. No one raised an eyebrow when one performer chased his poetry with a handful of notes on a didgeridoo.
And remarkably, no one got fidgety when the final performer stood at the mic for at least 2 solid minutes saying nothing before commencing a long original story, recited from memory without pause or falter.
I'm still unsure whether her silent preamble was the worst case of honest nerves I've ever witnessed or a stunt designed to make us question her stability and our patience, while challenging several social norms at once.
But however it was intended, the result was provocative, memorable AF, and reminiscent of Todd Snider's Talking Seattle Grunge Blues: Silence, music's original alternative!
Flexibility over structure
Unexpected instruments and staring contests aside, Anything Goes isn't a total rando free-for-all like Hale Hookah in Hawaii. More like a basic structure with ample room for flexibility:
Our host JD took the first slot—always a generous gift to the room—easing everyone into a receptive headspace.
Final slot was reserved for a closing jam with JD and whoever wanted to join in.
Slot lengths were fixed, but I gather that they vary based on the total number of sign-ups, which is a smart move. On this night, we each got a generous 10-15 minutes.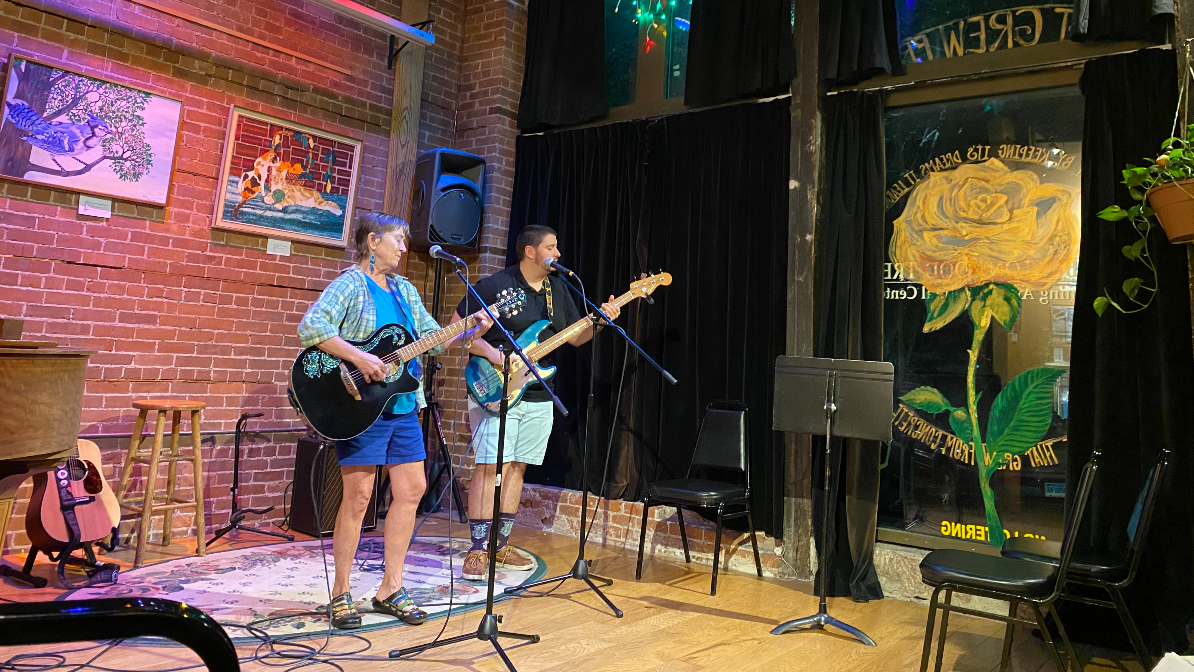 Pro tip for open mic poets: Poetry asks a lot more of the audience than music. Regardless of slot length, if you want to be fondly remembered, unless you're the feature don't read longer than 7 minutes.
Want more tips for performers? Got you covered right here.
Gratitude interlude
And then, an hour into the show, the Buttonwood Tree did something altogether new. Their exec director stepped to the mic and teed up a tradition they call Moments of Gratitude.
Think of it as an open mic within an open mic, where she set the example, took volunteers by raised hands, and called them up one by one. Like family gathered around a turkey, 6 or so grateful souls expressed appreciation—mostly for the venue and all they do for Middletown, the host, and music or arts writ large.
It was homey and sweet and perfectly suited to the space, and utterly novel, at least to me. Even after ~50 different shows across 36 states (and counting).
Idiosyncrasy is what it's all about
And that's what keeps me at this quest.
Surprise is a sure thing, and it's almost always that delightful kinda surprise (though not always…witness KCMO and Dexter, ME). I'm never surprised to be surprised, because there's just no such thing as a typical open mic.
There are common threads, sure. Or maybe the commonality is that each one is a woven thing, an evening with warp and weft,  something that offers up a tangible warmth and more than a touch of color.
So if you're gonna be near Hartford some Monday night soon, take my advice: Make your way to the Buttonwood Tree. Bring some cash for the piano fund. Bring a floral tube to carry home some houseplant love. And expect…well…anything.
But don't bother rehearsing your moment of gratitude. That feeling will come naturally when you walk in the door.